Philosophy
With today's hectic pace, it is reassuring to know that your home can be your refuge. We appreciate all that you do for your family and your profession and we carry that appreciation to work with us every day. Choptank Closets commits to design and deliver "a peace of space" for your home, office or other environment.
Mastery
Choptank Closets has over 75 years of combined classic and innovative woodworking skills. With our 3000 square foot cabinet building facility including a professional paint room and a dedicated showroom, we're well equipped to offer our clients a range of custom wood and wood-stain options that will seamlessly transition between what was and what now can be.
See what a difference one of our closets can make.
Explore Our Work
Choptank Closets is proud to present a gallery of projects.
Check out some of our favorite projects
Contact Us
Our showroom and workshop are located in Easton, MD off of Dover Road, behind Teal Drive.  To view our showroom, we ask that you please call to make an appointment.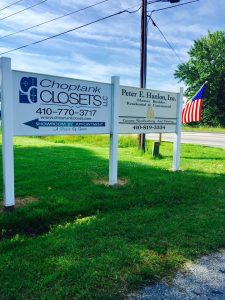 Choptank Closets, LLC. Showroom & Workshop
29516 Dover Rd,
Easton, MD 21601
(410) 770-3717
If you like what you see here, follow us on social media.
FACEBOOK